Click image to view Fred's Slide Show.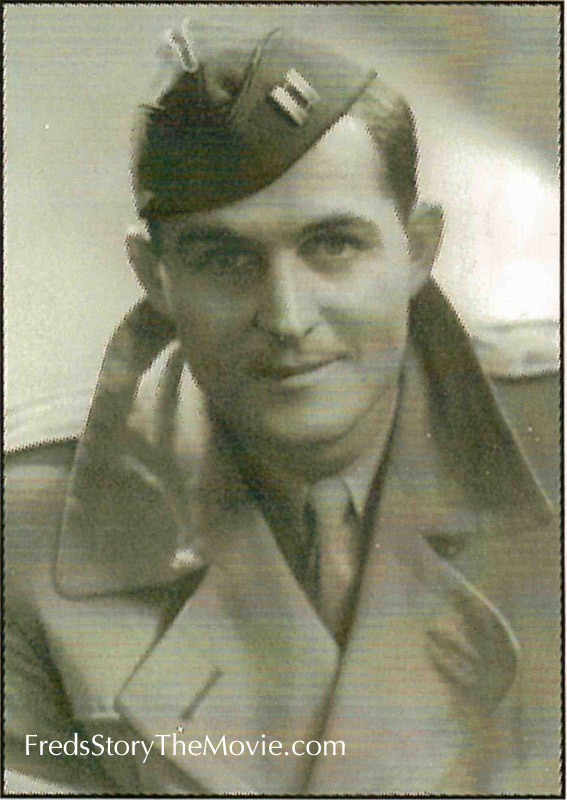 For an in-depth and poignant account of Fred's story see the article by Pulitzer Prize winning journalist Charles Hanley click on the image.
"This is a great war adventure. But it is more than that. It is also a great adventure of the human spirit."
--Anna Jane Karaer, U.S. Ambassador to Papua New Guinea
S
hot out of the sky by the Japanese, a World War II pilot survives the deadly jungles of an enemy-occupied Pacific island until villagers risk their lives to nurse him back to health. True to his promise, the American returns to the island to repay his debt, building schools, libraries and a bridge of love and goodwill that spans oceans and cultures.
Lost and alone, behind enemy lines.
It was Saturday, June 5, 1943.
Flying a photo reconnaissance mission 8,000 feet above the Japanese-occupied island of New Britain, I'd been daydreaming about my upcoming leave in Sydney. How delicious it would be to sleep on clean sheets, eat real eggs for breakfast and stroll with my girl along the beautiful beach...
But fate has a far more terrifying, incredible and ultimately transcendent journey in store for the young American. Blasted out of his daydreams by enemy gunfire, he sees flames spurt from the left engine of his Lightning P-38 before the plane goes into a screaming dive...
Barely escaping the stricken aircraft, Fred Hargesheimer parachutes into dense jungle where the likelihood of death at the hands of enemy troops is just one of the perils he faces. There, with his emergency rations of chocolate and matches rapidly dwindling, he spends the next month evading crocodiles, headhunters, leeches and insects. With nothing but an abandoned lean-to to shield him from the elements, and with starvation and exhaustion never far away, he survives on a diet of snails and prayer, reciting the 23rd Psalm daily: "The Lord's my shepherd, I shall not want."
Then the villagers come. To Fred's relief, they're not headhunters. Instead, they take him to their village and, in the six months that follow, feed him, care for him, go fishing with him, worship with him and hide him from the Japanese soldiers that patrol the beaches, risking torture and certain death themselves. When Fred catches malaria and is too weak to eat, one of the village women feeds him cups of her breast milk to keep him alive.
After an epic four day trek through nearly impenetrable jungle and across raging rivers, again with the help of his island friends, Fred is rescued by a U.S. submarine. He returns to civilian life in America, lands a job and starts a family. But he never forgets that he owes his life to the villagers of New Britain.
In 1960—17 years after he was shot down—Fred revisits the island. Greeted like a hero, he deepens old friendships and forges new ones. But he realizes it will take more than one visit to repay a lifetime of debt. In the ensuing years, he makes several more trips, building schools, libraries and clinics with money he has raised in the U.S. Not content to help from afar, he and his wife Dorothy move to the island to teach for several years. Even after Dorothy dies, Fred continues visiting, always advancing the island's causes, helping its people emerge from poverty. Eventually, the islanders bestow on him the ultimate honor of "Suara Auru" or "Chief Warrior." On his last visit at age 90, they take him on a final trip into the jungle to see something special: the wreckage of his Lightning P-38 that crashed all those years ago.
A true story recounted in his book, "The School that Fell from the Sky," Fred Hargesheimer's adventure is a testament to the strength of the human spirit, to the power of love, and to the ability of one person to make a difference. It's also a parable that reminds us that goodness can come even out of the madness of war, and that terrible beginnings can have wondrous endings. After all, it even led Fred to say, "I'm so grateful for getting shot out of the sky."
I'm seeking a partnership with a producer and/or production company to further develop the project.
Follow Fred's Story: